Lately, everyone has gotten a not-so-gentle shove indoors. And since I've been working remotely for five years now, many people have been asking me, how do I stay focussed? The truth is, you have to learn to work fluidly from home; a re-training of sorts. That takes time.Eventually, though, you'll love the perks. No interruptions at your desk, focussing on priorities at the top of your list, and you'll actually see an increase in productivity overall.Here are a few tactics that keep me happy and productive:1. Make A Kick-Ass Playlist
​It might just be me (I'm a dual screener), but I tend to feel the tug of boredom if I sit silently for too long. Don't get me wrong, there's a time and a place for quiet concentration, but I like a good background playlist to keep me bumping through the day. Pick your poison, but I think we can all agree, anything shouty or too heavy is just distracting. One of my key collaborators and I have been building a playlist together that I love. You can follow it on Spotify here. 2. Start Off Easy
​I love a list! I often make a list for the following day when I'm finishing up, or I will start my day by creating one in the morning over a coffee. The trick is to start with low hanging fruit. Do the task that you know is going to take you five minutes. Like, "send an email to 'buddy-boy, regarding blah blah' ''.Tap it out, and start your day by crossing something off your list straight away. That sense of accomplishment will help pump your tires for the rest of the day.3. Block Party!
​For some of the heavier items on your list, it can be hard to stay on task. When I first started working remotely, I used an app to break up my work into 20-minute blocks. It helps to stay on task for a certain period of time and if you need more, just reset. There's plenty out there, but I used Block and Flow. Now, I do it naturally. I focus in bursts, then take a minute to stare at the ceiling, have a snack, or pick my nose before getting back to the grind.4. Break Up Your Day
​What's the saying? Sitting is worse than smoking? If you are into something it's great to take advantage of your zone and stay there. Just don't forget to get up and stretch your legs every once and awhile.Make sure you still give yourself a lunch break. Rather than eating in front of your computer, break it up. Cabin fever comes early if you don't 'get away'. I like to walk my dog. She's a great work-from-home companion in multiple ways, but the best lesson she taught me is that I too need to be taken for a walk every day. Breath in the fresh air, listen to a podcast and get away from it all. Sometimes I listen to work specific podcasts if I'm feeling the pressure to be productive. Other times, its lighthearted (and relevant) like 'Sawbones— A Marital Tour of Misguided Medicine', or just something just plain interesting like 'Ear Hustle' or 'Criminal'. I love my true crime, and I love getting out of my own head for an hour or so.5. Mute Those Notifications
I keep my direct email notifications turned on during work hours because I don't get an extreme volume of emails coming through on a day to day basis. However, for my generic business email, I stick to checking it only once per day in the afternoon. I find constant dings and buzzes to increase my stress levels and can set you off in the wrong direction.My social media notifications are turned off, as this is a huge distractor. Especially now, since everyone is isolated and bored at the moment. People are breaking up #mundanemondays with hilarious antidotes like these remote rookie mistakes:
A tech saavy boss who turned herself into a potato: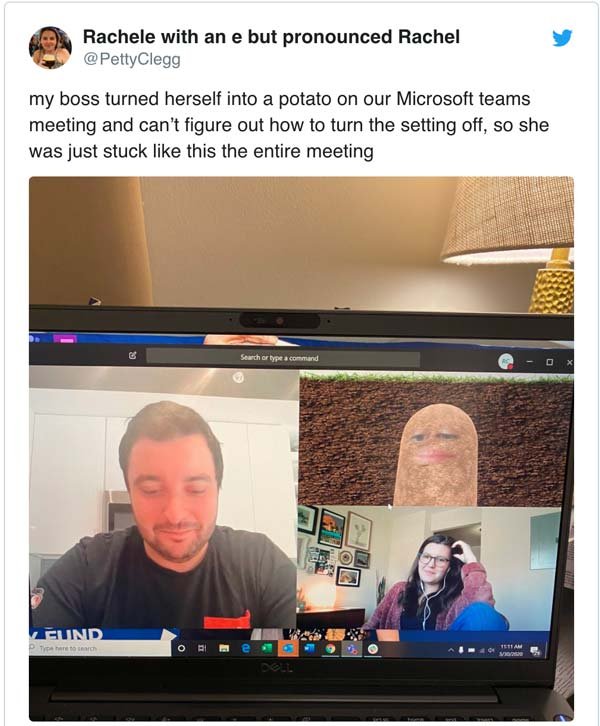 Or the group meeting where one lady didn't realise it was a video chat and just went to the toilet in front of everyone.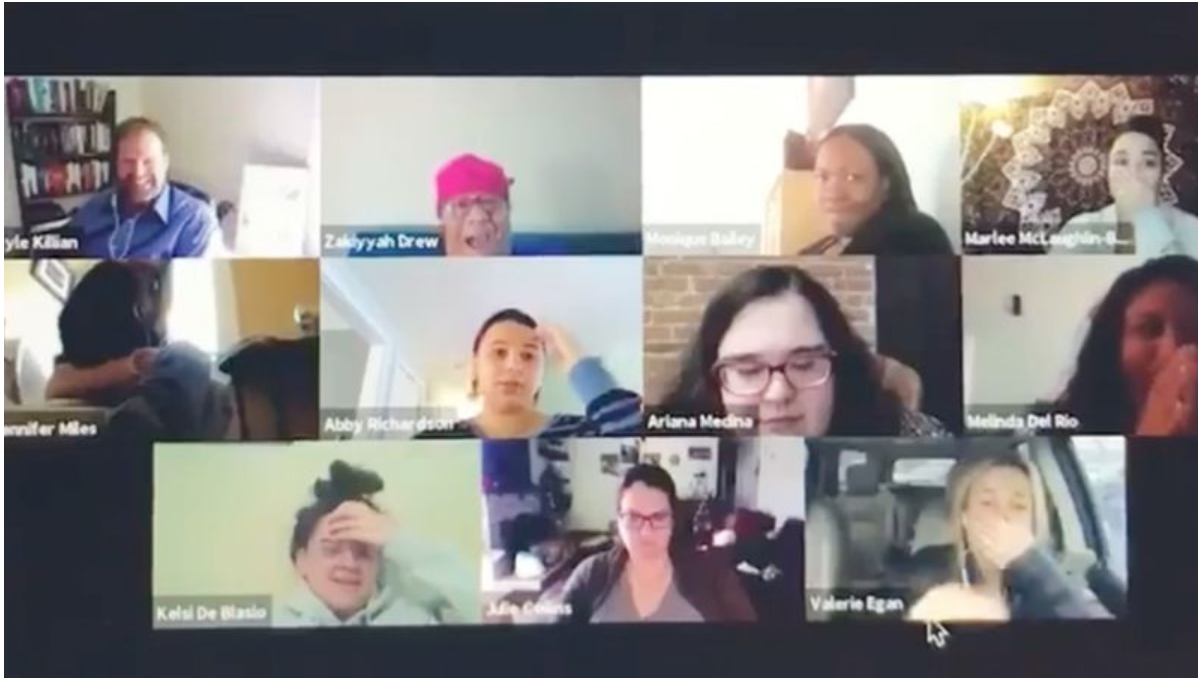 Tee hee 😂There's a lot of advice out there and everyone is different. Some people like to get up like any other workday, have a shower, and 'get in the mode'. Myself? I can happily smash out an analytics report in my underpants. It's really about finding your own remote-work-flow. Most importantly, it's about digging in and doing it.
OUR 5 STEP STRATEGY FOR START-UP SUCCESS
When launching your own business idea, it's easy to get wrapped up in the hypothetical dream and glimpses of future success. However, protecting your OUTSTANDING piece of intellectual property is not as easy as we all want it to be.Actually, executing a great idea is every entrepreneur's biggest challenge. Let's break things down to bite-sized pieces, so tackling these potential challenges are more manageable, and much more fun!

Step 1. Write It Down
I'm not talking about a business plan (though our startup checklist can help to form this) . I'm talking about a viable brain dump. Write it all down: your idea, point of difference, what problem you are solving, if employees are necessary at initial stages and, realistically, how much money you have for this idea. This last point is especially important. By doing this, you'll begin to see potential problems as your idea evolves, and how you will shape your pitch. The pitch is important, because if you can't sell your idea to other people, you don't have a good idea.

Step 2. Brainstorm
Our instincts tell us to protect our ideas like hidden treasure! In reality, it's hard to turn any good idea into gold without the help of a few friends. Some will praise every word your silver tongue speaks, but most of us have a handful of amigos that tell it like it is, and love to affectionately challenge our ideas. Pick those friends.The best scenario is a group of two or three. Because, two heads are better than one, right? Choose a place where you can hear clearly and can comfortably bounce ideas around. Then spill your guts!Ideally, this will unveil obstacles about your idea that will have undoubtedly been masked by your own enthusiasm. Workshop the idea and write everything down again. Yes, again! This will improve what you wrote down in Step 1.

Step 3. Name It
Your mind probably crept to the naming stage in Step 1, and it's something you should have pitched at Step 2. However, after you've workshopped your idea with your trusted comrades, you most likely have a better idea of your brilliance. So Step 3. is a great place to have a re-think.A business name should be relevant, catchy, and reflective of your industry. Shy away from anything that could possibly offend, but stay true to your personality. There are loads of great free name-generating websites that help with wording and ideas, like Panabee and Name Mesh.Write down the progression. Even better, record the process to hear how the idea progresses and to ensure you don't accidentally miss a piece of solid gold. We have found, time and time again, that new ideas emerge faster than any one person can think, or remember. Hit record on your phone and forget it's there.We are huge believers in collaboration at Ponderlust. The people you workshop your idea with need to know what you're banging on about. Use their perspectives to get creative and break the mould.

Step 4. Time for you
If you're really serious about jumping in, there are piles of things to work out. Please don't just buy a URL and think that's it. Dig a little deeper and be realistic about what you can do. Discover how much time you can dedicate to this idea, and to understand your skill sets.Also, you will absolutely need a startup business plan to get any funding. There are many online services that can assist you in punching out a business plan, for a fairly low price. These business plan templates will provide a base. Then you can apply your personal style if you're not up for writing the whole thing from scratch. The guide at the end of this post will help get you started. Think: 'how much is my time worth?' and 'what is the best use of my time?'. These are key questions to answer.

Step 5. Sell It In & Work!
You need money? Get it. You want startup help? Ask for it. Go, go, go! Make lists and tick those boxes!

LIFT OFF!
Realistically there are a few things you are going to need, including a startup company website. Depending on how skill savvy you are, the chances are fairly high that you will need to outsource in order to have a logo designed and a website built—with email set up and branded, linked signatures. These simple, yet effective, tools will give your brand that sweet, polished look that will help to sell your concept! Think about SEO from the start and make sure the marketing company that helps has a good grip of this because it will impact your site structure and overall success in the long run.A solid business plan, an engaging marketing plan, coupled with a strategic social media marketing plan, is needed. However, digital marketing initiatives will only work if your potential customers have a website with goals set up.Ponderlust offers a variety of start—up and progressive packages—all tailored to your business needs. Please connect for further details!